The Eighth Round of
Iron Ref
is on, and by all accounts, it's a doozy. The contestants not only sent in their submissions on time, but all of them wildly early! For that they have all won a place in my heart. Well, OK - maybe not my heart. And there's not much room in my liver or kidneys either. But they have certainly earned a place in my
ground substance
. I'm just all mushy like that.
This week's Secret Ingredient:
FAN FAVORITE
-----------------------------------------------
Sean Leahy
Fan favorites tend to be players who show a lot of heart, have a good back-story or an enjoyable personality. Players like a David Lee, Jacoby Ellsbury, or Maxime Talbot have somewhat of a cult following of fans in their respective cities. While I'm sure they're very nice people, I'm more of an aficionado of a different kind of fan favorite: those fans in attendance at games that up the enjoyment level of your sporting experience.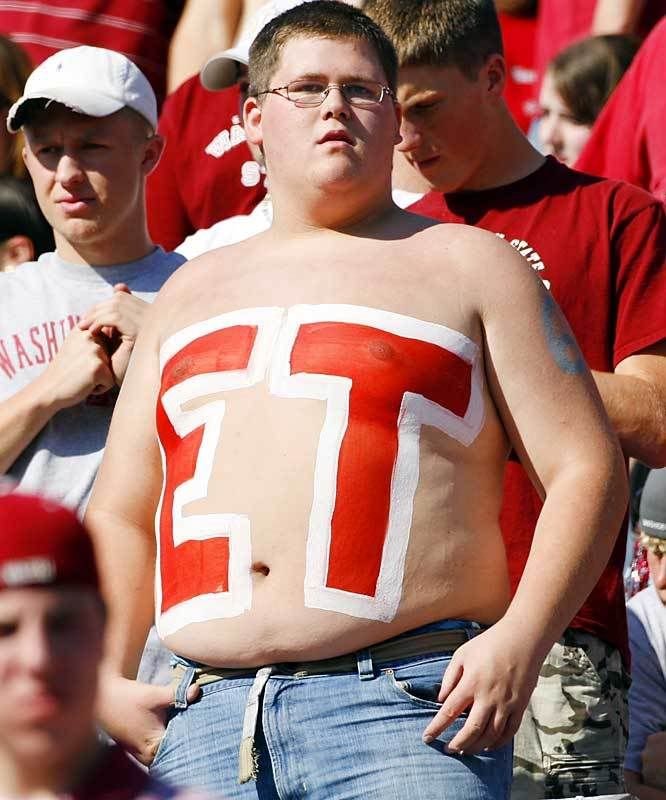 The body painter
They spend sometimes hours covering every inch of their face, neck, and/or chest with their respective teams' colors or a simple letter, of which they'll later spell their favorite teams name. The more enthusiastic body painters are usually the hairy guys sporting a beer gut. Much like watching Homer Simpson run on a treadmill, when this guy's letter is called, it's mesmerizing to watch him dance and jiggle.
The hot chick
There's plenty of beautiful woman attending sporting events these days and it's always exciting when there's one in your section. When said gorgeous girl is walking up and down the aisles, the men in the section hush up as they are quietly rating her with their buddies. Said females are always a nice supplement to the entertainment going on at the ballpark or arena.
The funny drunk

These fan favorites come in handy when you're experiencing a boring sports experience. I went to a Yankees game a few summers ago and was dealt a double hand of death: they played the Royals and Al Leiter was on the mound. After three and a half hours of watching every batter go to a full-count, drunken, entertaining fans were in high demand. Sure enough, Yankee Stadium provided us with a group of guy who started singing the "Na na na nah, hey hey hey, goodbye!" song and stopped several times because they felt they were out of key.
Ghosts of Wayne Fontes
You may not know this about me, but I am actually the illegitimate offspring of legendary bass player for the Who, John Entwistle. In other words, I know a thing or two about being cool. Hence, today I plan to impart upon you fine folks a little wisdom about what it takes to become a fan favorite.
A Signature Move: Just like Pete Townshend's windmill, you'll need a powerhouse celebration move. May I suggest that upon scoring a touchdown, squat down and squeeze out a giant number two in the form of your football. Then, grab that turd and heave it into the visitors section.
Trademark Style: You could go all rock n' roll like Roger Daltrey with the tight pants and all that, but I'd recommend more Kurt Rambis. For starters, Rec Specs all but ensure the love of the fans, but throw in a mullet, a snot damn, and some ridiculously short shorts and you're a lock.
Entrance Music: You'll need a theme song. I recommend entering to Jim Carrey's legendary speech at the 1999 MTV Movie Awards on the Jumbotron. "There's some fine lookin' pussy in this room tonight. Would it kill you to play a little Foghat?" Then of course, let loose with a foundation rattling "Slow Ride."
A Pseudonym: Fans love those alter egos like Ron Mexico and Chad Ocho Sinko, particularly if there is an arrest involved. In this case, I'd even be willing to give you my all-time leading scorer, rebounder, shot blocker, and 3-point shooter in NBA Live history, Elvis Rebound.
A Sidekick: A sidekick is a tad over the top, but it can work if played smoothly. Pedro Martinez worked the midget to great fanfare, but that's been done. Some other good possibilities would be a throwback like Soleil Moon Frye or a perhaps a kid. Just make sure it's not some wuss like Micah from Heroes, but someone cool like Teddy DuChamp or Chris Chambers from Stand By Me.

-----------------------------------------------
Spencer Kyte
Sal Fasano. That's who I immediately thought of when I was sent the topic for this little battle royal of blogging excellence.
In baseball, no one better embodies the term Fan Favourite than the journeyman catcher with the best moustache since Magnum, PI was chasing down bad guys in Hawaii. I mean, it's not like fans are drawn to him because of his lifetime .222 average. But no matter where he's stopped over the last handful of years, you've seen Sal's Pals in the stands rocking faux 'staches in his honour.
Mark Madsen is the basketball equivalent, another guy who has endeared himself to fans by barring a striking resemblance to someone you've played pickup with hundreds of times that leaves you wondering how he made it to the NBA in the first place. His So You Think You Can Dance routines at all the Lakers championship parades only cemented his standing.
That's the thing with Fan Favourites – very rarely are they the best player on the field. Over the last ten years, Barry Bonds and Alex Rodriguez have clearly been two of the best baseball players on the face of the Earth, but you don't see scores of people rushing to support them, do you?
It's would be easy to cheer for the most talented and the most popular, but that's what casual observers and girlfriends who want to learn about their boyfriend's favourite sports do. Every girl I know who suddenly "likes football" likes the New England Patriots.
All-Stars are not fan favourites, despite what the fan voting may lead you to believe. The true Fan Favourite is that special someone who reminds you of you and helps to convince yourself that if you had just been two inches taller, hadn't quit Little League or could throw a spiral to save your life that maybe you too could have earned a living as a professional athlete.
They're the guys who could just as easily be your auto mechanic as a backup catcher, fourth line grinder or last man off the bench who dances like my Uncle Walt and that is why they're our favourites.