This round's theme:
WHO BEST USED THE SECRET INGREDIENT?
CAST YOUR VOTE IN THE COMMENTS
(you have until wednesday 5pm)
Feast your (eyes?) on the submissions below

---------------------------------------------------
Grimey
Here's an LOLJocks gallery of images from this year's World Series. My only regret is that I wasn't able to include
Phillies third-baseman Eric Bruntlett.
He looks like he can make one hell of an Old 96er.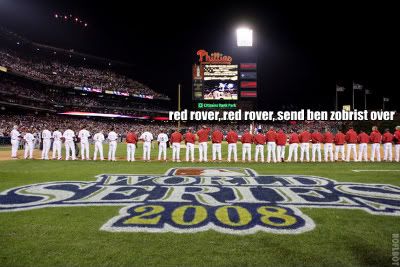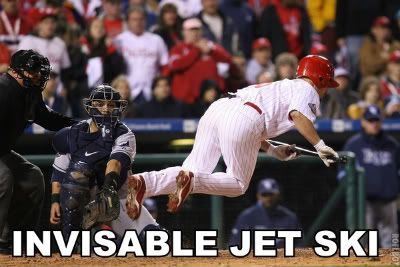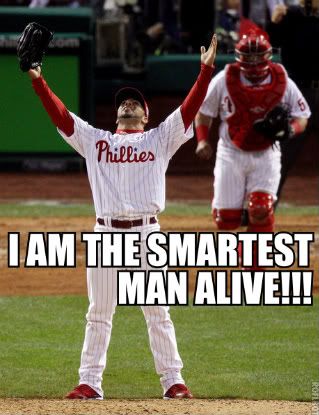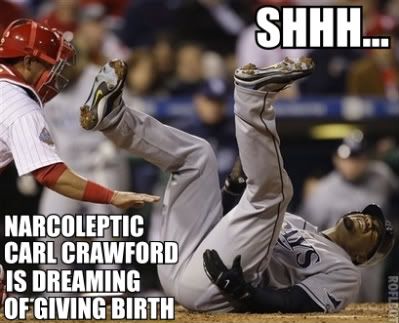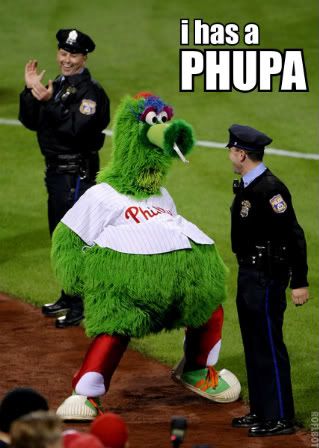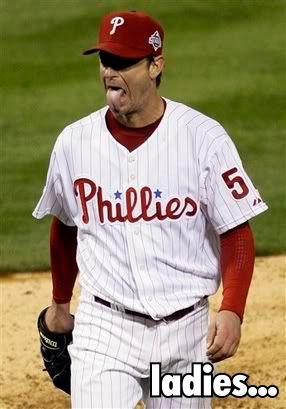 ---------------------------------------------------
Lady Andrea
I actually have some experience to draw from on this topic because my team took home the big, shiny trophy just two years ago. Now, nothing will top my experience watching the Cardinals beat the Mets in game 7 of the 2006 NLCS with a group of about 25 Cardinals fan at Dewey's Flatiron in New York City. But my game 5 watch of the World Series was pretty good too.
Game 5 of the 2006 World Series happened to take place on the last Friday in October, which was also the date of the Notre Dame Law School Fall Ball. For the pre-party, my friends Nicole and Sara threw an engagement party for my good friends Tony and Nikki. Both of these events were things I wanted to attend, so I did my hair, put on make-up, donned my slinky red dress and then... put my baby blue Cardinals jersey on over top of the dress. I turned the game on at the engagement party and kept one eye on it and one eye the happy couple.
I missed an inning while we took a cab to the dance, but then went across the street to a Buffalo Wild Wings to watch the rest of the game. When the Cardinals won, I hugged and high-fived a bunch of townies that were in a BWWs on a Friday night. Back at the dance, my guy friends surprised me with a bunch of big fat cigars they had purchased just in case the Cardinals won while we were at the dance. We stood outside the College Football Hall of Fame, on their 40 yard football field, and celebrated my team's victory. It wasn't the optimum way I wanted to watch the game, but it was pretty awesome.
---------------------------------------------------
Brian Basset
Can someone please explain to me what Bud Selig is doing? Can Bud Selig?
To me, Fall Classic evokes fond memories. The Amazins in '86.
Kirk Gibson
rounding the bags pumping his fist. Hell, even Jimmy Fallon and Drew Barrymore running out on the field and making out to taint the moment for purist Sox fans in 2004 was (to me at least, I'm a Yankees fan) classic .
This 2008 Series seemed to be off to a good start, with two teams of lowly means and/or luck out to slay their own reputation as much as the opponent. It was pure homespun gold.
But as Bud Selig runs the show, he has an innate knack to fart in every elevator he enters. Not surprisingly, these two charming little teams that could, were facing Selig and broadcast TV, who squeeze every last point of ratings they can no matter the cost to everyone else.
It started to go sideways with a 10PM ET start time Saturday. After last night, there was a second more substantial gaffe by allowing the game to start during a monsoon. Joe Maddon saved face for MLB, taking the 'death before dishonor' route by saying that he wasn't planning on using a starter to play out a suspended game.
The irony of the whole thing is that if the game hadn't been tied, Selig would have basically had to break his league's rules to avoid doomsday, calling the game and crowning a champion instead of suspending it. Is this a Fall Classic? Channeling my best Potter Stewart - I know it when I see it – and I find it hard to consider this one classic so far, not because of the play on the field but because of the increasingly recurrent bungling of a few greedy men. Let's just hope from here on out that what happens between the lines overshadows it.
---------------------------------------------------
So there you have it. Who uses the Fall Classic theme best?
Vote in the Comments!
Personally, I waited for the inevitable Classic Fall injury video montage, or "Fall, Classic" photoshop but it never came. Sad really.