We're now roughly a third of the way through the regular season and what have we learned? That after the SEC and Big 12 there is a really big gap to the third best conference. That there's something to be said for brains (Stanford, Northwestern, Duke and Vanderbilt are a combined 15-3). That no matter how high or low the expectations, Tommy Bowden will continue to not meet them. That Tennessee is in a whole lot of trouble. That if the Mountain West isn't the third or fourth best conference in the country, they can certainly do a very good imitation of it. And that there's still a lot to love about this crazy, mixed up sport. Unfortunately, there's also a downside. And it's my job to find it. So here are this week's lowlights.
1. God Bless You, Oregon State.
Early last week, USC coach Pete Carroll raised a few eyebrows when he said that USC's schedule was "
ridiculously difficult."
Whether or not he was talking about Oregon State we'll never know, but let's all thank the Beavers anyway for saving us from the scourge of the "what ifers." Prior to last Thursday's game against the Beavers, I can't tell you how many articles I read asking, "What if USC, the Big 12 champion and SEC champion all run the table?" The worst were the conspiracy theorists who were convinced that the BCS, the polls, daylight savings time, ESPN and the Knights Templar were all engaged in some massive conspiracy to keep their team/conference out of the BCS title game. Fortunately, Oregon State saved us from a few weeks of whining. (Although a few more wins under Penn State's belt and they can reignite the "controversy.")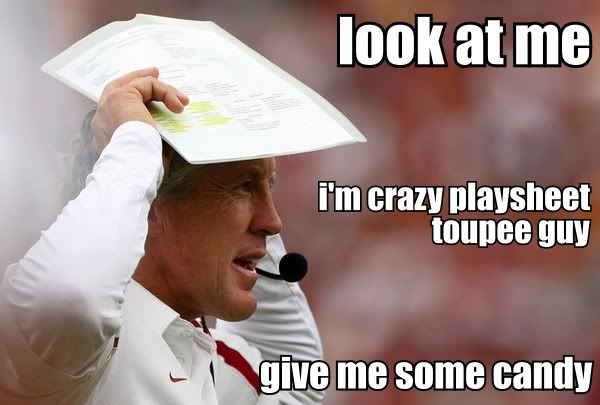 It's a little early for Halloween, but that didn't stop the orange-and-black of Oregon State.
(For my money, the only ones more annoying than the BCS conspiracy theorists are the playoff gurus. You know, that guy in your office who not only insists that college football needs a playoff but spends every waking moment calling sports radio shows and frequenting message boards to outline his own version of a workable playoff system. Yes, we all know a playoff would be nice. No, you're not the first person to come up with a system that could work. And no, it's not gonna happen. Accept it. Move on.)


2. Bad Manners

Note to Georgia: if you're going to ask your fans to shell out their hard-earned money to buy black clothing for a game, the least you can do is bother to show up on time. I mean, whatever happened to Southern courtesy?

Was Alabama just that good? Or was Georgia just that bad? Yes to both. True, the Tide dominated UGA in pretty much every phase of the game. But the Bulldogs certainly did their share to make this game a lot less interesting. Look at Alabama's first possession for example: with Alabama driving, Georgia CB Prince Miller was called for pass interference in the end zone, moving the Tide into striking distance. Three plays later, Akeem Dent was flagged for roughing the passer, which negated a fumble recovered by Georgia. Bama scored two plays later and the rout was on. That pretty much summed up the first half—even when Bama didn't do something right, the Bulldogs would screw something up and turn it into a net gain for the Crimson Tide.

To their credit, the Dawgs did turn things around and play much better in the second half, outscoring Bama 30-10. But playing half the game won't cut it. Black jerseys may be slimming and fashionable, but there's no such thing as fashionably late in football.


The black body paint will be easier to remove than these fans' memories of the game.
3. Iowa: Not the Last Axe to Fall?

There's a saying that the cover up is usually worse than the crime. And while I would certainly never maintain that to be the situation in a rape case, things are rapidly unraveling at the University of Iowa. Last week, two top university officials were fired for failing to properly respond to rape allegations against two Hawkeye football players. This case has been percolating for some time and, while I don't claim to be a legal expert or know how this will end, something tells me things are going to get darker yet. Throw in LB Dezman Moses' public intoxication arrest last week and that brings the total up to 19 Iowa players arrested in the last two years. Before the season, I predicted that this would be Kirk Ferentz's last season on the Iowa sidelines. It's possible to keep your job with lots of legal problems and off-field issues (see also Paterno, Joe). It's possible to keep your job if you're not achieving fan expectations (see also Fulmer, Philip). But it's awfully hard to do both (see also Barnett, Gary). After three straight ten-win seasons from 2002-2004, Iowa has gone 7-5, 6-7 and 6-6 in the three years since. And, since starting 3-0, the Hawkeyes have now lost back-to-back games to the likes of Pittsburgh and Northwestern. For a coach who was once considered to be the next can't-miss coaching superstar, another Big 10 collapse and .500ish season likely won't cut it.


4. Snatching Defeat from the Jaws of Victory

Staying in the Big 10, did anyone have a worse ten seconds than Indiana on Saturday? Here's the scenario: Playing at home, the Hoosiers were down to Michigan State most of the day. With two minutes to play in the third quarter, they trail 34-29 and are backed up to their own one yard line. After two plays, they'd moved it to the three when, on third and eight, Indiana QB Ben Chappell hit WR Terrance Turner who, with the Bloomington crowd going nuts, proceeds to jet 97 yards for the go-ahead touchdown. They just missed one little thing—a little piece of yellow cloth sitting in the end zone. Holding. In the end zone. Safety. So instead of getting seven points on the board, the Hoosiers gave two more—and the ball—to the Spartans. Absolutely killer. With that nine-point swing, the air pretty much went out of everyone wearing Hoosier red and Indiana wouldn't challenge for the lead again.


Fortunately, many Hoosier fans were spared having to see the horror.


(
Photo courtesy The Wiz of Odds.)

5. Cheaters Never Win. Yeah, Right.
For some really interesting reading (and surprisingly thorough research by sports blog standards) about the seamy underbelly of college football, check out
Barking Carnival's ten-part (!) series
on the history of cheating.

6. Notes from the Road
And on the plus side this week, I had the opportunity to attend Saturday night's aforementioned Virginia Tech/Nebraska game. Met lots of great Husker and Hokie fans at The Watering Hole, Misty's and Sidetracks the night before the game. And, if you're a sports fan at all, be sure to add Nebraska's Memorial Stadium to your "list of college football shrines I must see before I die." While both teams have struggled at times this season, I got to see a glimpse of the future, and I have to say that things are looking up for both programs.
Tyrod Taylor did a lot of things well. He was able to keep plays alive with his legs and made some nice throws on key third down plays. Most importantly, he did a good job of managing the game and not trying to force the issue. While
I've been critical
of Virginia Tech's offense this season, I came away impressed with Taylor and, if he continues to mature, he could be a very good quarterback. Combine that with the Hokies' stout defense and special teams, and they could be a force in the ACC.
As for Nebraska, they still have their problems. After four years of Bill Callahan's pass-happy offense, the Huskers' offensive linemen really don't know how to run block. The defense still has too many mental mistakes and missed tackles. But the effort is definitely there. VT scored to go up 18 with 6:54 left in the third quarter. A year ago, this team would have folded like a cheap lawn chair. This year, the Cornhuskers kept fighting, pulled to within five and gave themselves a shot to win the game in the final seconds. While it may not be in the near future (three of NU's next five games are vs. #4 Missouri, at #7 Texas Tech and at #1 Oklahoma), brighter days are ahead for the Huskers.
Oh, and did I mention I got to meet Erin Andrews after the game? So not a bad weekend.
A good way to close out a football weekend.