The fourth round of HHR's Iron Ref is on.
Click here for a look at this week's competitors and an overview of the contest. CAST YOUR VOTE IN THE COMMENTS.
Voting will be tallied at 5 PM EST on Thursday. Remember, winners will return to compete for the title of HHR's Iron Ref. If you are interested in competing, drop us a line.
This round's secret ingredient:

CONTRACT YEAR
GRIMEY
(Now I'm just teasing Milton Bradley for his incident from earlier in the season where he tried to
confront a TV announcer
for talking shit about his "self-control problems." Milton is having an awesome contract year, just made his first All-Star team, and should definitely make some quality scrilla over the offseason. But should Milton Bradley happen to read this... well, I should probably go ahead and cover my ass. You know, just in case.)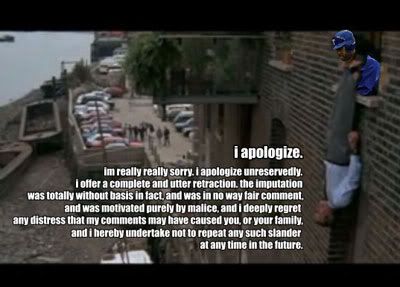 ----------------------------------------
Eric Gargiulo
Contract year! What really is a contract year in sports? If you think about it, the whole idea of a contract year is probably the most ridiculous thing in sports. Nobody wins. A team takes a P.R. hit if they let a player walk after a great season. A player loses millions if he can't produce in his final contract year. But what if nobody had to lose?
Pro wrestling is the only sport to benefit from a contract year. In 1997, WWE champion Bret Hart was not just wrestling in his contract year for the WWE. Bret Hart was wrestling a contract match. As WWE world champion, Bret Hart signed a deal with WCW. Hart was leaving as WWE champ and taking the gold with him. As Vince McMahon said in 1985, "Stand back!"
Not only did Bret Hart benefit by signing a contract with another franchise in his contract year, so did the franchise. The WWE was the greatest beneficiary of all with Bret Hart's new WCW deal. How would the WWE benefit from WCW signing a wrestler who was holding their belt?
The WWE and Vince McMahon screwed Bret Hart in Montreal 1997. Bret Hart refused to lose on the way out. The only problem with that is that wrestling is kind of fake Bret. Bret thought the only way he could lose is if Shawn Michaels really beat him. Vince called an early bell, the WWE got their belt back, Bret got the most publicity he had ever received, and everyone won.
So the next time a professional athlete is going into his contract year, think back to 1997. What if Andre Gurode turned around and sacked Tony Romo in the red zone last season? What if Cole Hamels just turned around and beaned Pat Burrell in the face with a baseball last week? What if Vince Young tripped Albert Haynesworth in the shower? Everyone could benefit in the AFC playoffs!
Teams need to take a lesson from Vince McMahon and turn one player's contract year into a contract year of their own. Everybody wins!
----------------------------------------
ETHAN JAYNES
Wow! This is the big time. Iron Ref on HHR. To get ready for the challenge, I trained myself in ways that I had never dreamt of before. To do well, I knew I needed to be at my mental zenith, my witty pinnacle, my blogging Everest. Now, with my newly honed cat-like reflexes and wit par excellence… I give you my take on the contract year.
If I am known for only one thing it's
posting videos
. When HHR told me that this week's secret ingredient is contract year, it reminded me of only one thing—I only have one year left on my Verizon Wireless contract.
I read
last week's entries
and I got scared. What if people called me out on my bad writing? What if they pointed out that my total lack of actual blogging talent is masked only by posting embedded video that I didn't even create? What if people called me a sham? What if I am not ready?
Well, I am going to have to put up or shut up. This is the contract year post. As people look back on my blogging career, they will only remember this post. They will not recall the time I posted that
Jim Grobe was going to be the next coach at Arkansas
. They will forget all about the time I posted that
Tommy Tuberville was going to be the next coach at Arkansas
. They will only remember this post. This is go time. There is no backing out now. This is where the men are separated from the boys. This could be my shining moment. This could be the difference between doing guest posts on
The Sporting Blog
, or leaving fake anonymous comments under my own blog posts.
Anonymous Comment: The other guys did great but my vote is for Ethan. He is super. Where does he come up with this stuff? He took the secret ingredient and did so much with it. I can taste contract year in every dish that he served.
----------------------------------------
Well there you have it. Three altogether different takes on CONTRACT YEAR. Cast your vote for who best used the secret ingredient in the comments. As Abe Linconln once said, "Vote or Die, bitches." Or was the Puff Daddy? I alwasy mix those two up.